Craig Powell
Co-Founder & Chief Operating Officer
Craig Powell is an integrity-driven senior executive leader with a solid track record of delivering results and building long-term organizational infrastructures that set the stage for future, repeatable success. Time and again, Craig has helped rebuild and restructure ailing projects into highly profitable venues through practical reorganization and restructuring. With 25 years of experience spanning sales, marketing, manufacturing, operations, investments, accounting, finance, international, team building, and line-of-business management experience, Craig is used to making effective long-term, comprehensive, strategic decisions. His C-level competencies include mergers & acquisitions, brand development, executive level marketing, financial analytics, cost containment, team building, negotiations, and many more.
Craig obtained his BS in Food Science and his MBA in Finance and Accounting from UC Davis. Craig is a frequent featured speaker for advice and guidance in agricultural entrepreneurship and innovation.
As a Food Scientist, Craig has been a professional member of the National Institute of Food Technologists since 1993 and a founding member of the Tomato Products Wellness Council, which was formed in 2007.
Earlier in his career, Craig turned around a 1,200-employee $165M tomato processing business at Pacific Coast Producers. He increased profit by $4M in one year by focusing capital investments on achieving specific quality improvements and throughput enhancements, eventually transforming Pacific Coast Producers into the "class of the industry" within 3 years.
Previously, Craig also served as President and Chief Executive Officer at RF Biocidics, reporting directly to the Board of Directors. With his guidance and reorganization efforts, and in the span of two years, revenue grew from $100K to $10M annually, with positive income and cash flow. Craig directly led the company's marketing and branding initiatives as well as new product development. RF Biocidics was spun off by its parent company and is now known as Ziel Technologies.
Prior to RF Biocidics, Craig served as VP of Sales and Marketing at Superior Farms, where he increased sales from $160M to $300M. Craig managed a $10M budget and oversaw sales and marketing with direct accountability for the development and implementation of sales strategy, branding, and messaging, as well as market and product development for domestic and international markets.
In addition to his executive career, Craig has worked on 10 private consultation projects, helping companies of all sizes to restructure and reorganize in order to optimize performance and maximize profits. Craig also has a rich volunteer experience, namely as Board Member for the Granite Bay Municipal Advisory Council, President of the Board for the South Placer Fire Protection District, and Board Member and Treasurer for The Family Network.
At Natura, Craig is responsible for the complete buildout of this state-of-the-art facility, as well as the day-to-day operations of the business.
What drew Craig to cannabis:
"This is a plant (and an industry) that truly improves people's lives. The pace of the industry is fast and furious, and change is the only real constant. That combination of meaningful and challenging work is as good as it gets."
The quote that drives him:
"We all have self-doubt. You don't deny it, but you also don't capitulate to it. You embrace it." – Kobe Bryant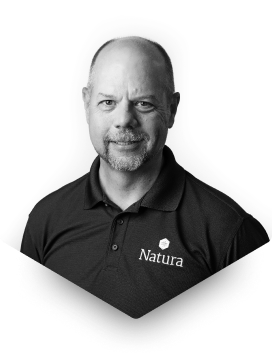 People
We are driven by the belief that cannabis can truly transform the world.
Each team member at Natura brings a mix of expertise and passion, reflected in the work we do day in and day out.
Meet Our Team
Values
Our Core Values not only say who we are, they guide everything we do.
Team

The mission and the company
are our priorities.

Community

Our higher purpose is improving
the lives of others.

Innovation

We will never stop reinventing
ourselves and our business.

Integrity

We honor our commitments,
no matter the cost.

Execution

Value is realized when
vision becomes reality.

Are you over 21?